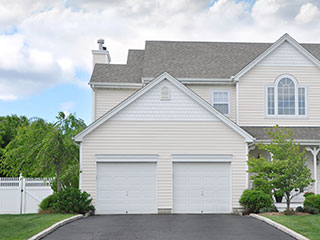 We provide repair, replacement, and installation services for automatic garage doors of makes and models, as well as routine maintenance, safety tests and consultation. Our team can make house calls anywhere within city limits, and we offer some of the best prices in the market.
Need A Repair?
Whether the problem is a broken spring, a warped track or a faulty opener, our expert technicians can be counted on to identify the issue and get your system working again. Garage doors are complicated machines, and there's a lot of things that can go wrong with them. We have the experience to solve most such malfunctions and we've worked with the systems of all the major manufacturers.
Or A Replacement?
We keep a diverse inventory of parts from a long list of trusted manufacturers, including Genie, Liftmaster and Clopay. When our team attends a property they'll nearly always bring a selection of spare parts with them to replace damaged components on the spot. If you're in need of a replacement part, our technicians will help you to choose the right component for you and advise on best fit when it comes to your needs and price range.
How About Maintenance?
For continued, reliable performance, you should have your garage door looked at once every six to twelve months, especially if the weather has been extreme or your door has had a lot of use. Our team will oil your springs and hinges, align your sensors, and treat any wear and tear that could eventually lead to a breakdown. Our maintenance services can save you money and inconvenience in the future by preventing a system failure.
We Make It Easy
Our team work on weekends and weekdays alike, and are happy to plan around your schedule in order to maximize convenience and minimize hassle. We offer services to local homeowners throughout Greenwich, Connecticut and we're proud to call ourselves the most customer friendly garage door repair company in the area.
Call Us Today:

Expert Services

Best Prices In Town

High Quality Parts

Flexible Appointments