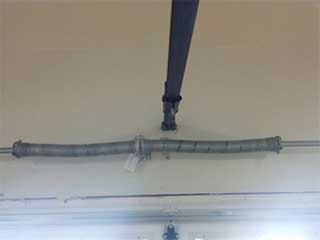 Torsion springs are usually the preferred choice as they are far more durable and flexible than their counterparts. However, not every type of door or every garage can use them, due to certain space limitations. If your door does, you'll be able to see the spring right above it, installed across a long metal shaft parallel to the door's length.
How They Work

Torsion springs are made from a steel wire. Most residential garage doors use one, but bigger ones may require two units or more. In any case, the principle of operation is absolutely the same. The spring is mounted over a steel shaft, which stays above the door. It is wound when installed. This is how it accumulates the energy necessary for counterbalancing the door's weight. During the opening process, the spring unwinds and releases its stored energy, which is applied to the drums at the two ends of the shaft. The energy is transferred to the cables going over the drums and attached to the bottom of the door. They basically use the transferred force to lift the door up. During the closing process, the energy is transferred back to the spring, which in turn will wind back and become loaded with energy once again.

Different Types and Designs

The galvanized springs are the most widely used kind. As their name suggests, they are made from galvanized steel, which means that they are coated with a layer of zinc that makes them resistant to rust and corrosion. Another type is oil tempered springs. These units are made from steel wires that have been dipped in hot oil. Thanks to this treatment, they're able to work smoothly without regular lubrication maintenance. The traditional torsion spring system has the unit stationed over the center of the shaft. The EZ-Set design, on the other hand, has it on the side next to the left drum. It's mounted with the use of a winder. The purpose of this design is to make the installation of the component easier and quicker, as the EZ name suggests.

Maintenance and Repair

The traditional galvanized torsion springs require lubrication to work properly. You should also test the system regularly to ensure that it counterbalances the door's weight correctly and that the tension doesn't require adjustment. You should not expect any other issues with this component. When it breaks eventually, it has to be replaced straight away. Our experts at Garage Door Repair Greenwich are ready to help you with that.